Over 70% of CFOs consider digital transformation a top priority, but many still haven't implemented it due to the constraints of limited budgets.
The solution?
SaaS cost management. By proactively addressing SaaS spend, you can mitigate risks, secure cross-department access, and avoid common buying mistakes that can quickly inflate expenses.
In this blog post, we'll dive deep into the world of software management, revealing its game-changing importance and serving up some strategies for optimizing SaaS spend.
Table of contents:
What is SaaS cost management?
SaaS cost management is the practice of overseeing and controlling expenses related to cloud-based software-as-a-service (SaaS) applications. It involves tracking, analyzing, and optimizing costs associated with SaaS subscriptions to ensure maximum value and minimize unnecessary spending.
SaaS spend optimization, on the other hand, focuses on strategically aligning the use of SaaS applications with business goals and eliminating waste. This includes right-sizing licenses, negotiating better pricing, and identifying underutilized or redundant software to cut costs and enhance efficiency.
With global cloud adoption skyrocketing, it's more important than ever to have a handle on SaaS cost management. Gartner forecasts that by 2026, public cloud spending will account for over 45% of all enterprise IT spending, a massive leap from less than 17% in 2021.
Given these eye-opening statistics, it's clear that SaaS cost management is essential for organizations looking to stay competitive and harness the power of the cloud without going over budget.
---
---
The role of CFOs in managing SaaS cost
As stewards of financial resources, CFOs play an important role in SaaS cost management. After all, when the company wants to reduce SaaS spend, the CFO is almost always the first person everyone looks to for solutions.
They're responsible for developing and implementing strategies that ensure the company's investments in SaaS applications align with its growth objectives and deliver a solid return on investment (ROI). This involves working closely with IT, procurement, and business unit leaders to make informed decisions about software purchases, renewals, and usage.
So, what does this mean for you as the CFO?
Well, you'll need a clear understanding of your company's software landscape, including the total cost of ownership (TCO) for each SaaS application.
You'll also need to establish a robust governance framework that:
Streamlines procurement
Centralizes data
Enforces policies to optimize SaaS spending
Reduces risks associated with decentralized purchasing
Not to mention, a well-optimized SaaS cost management structure can significantly contribute to your department's finance transformation journey.
As organizations embrace digital transformation, CFOs must find ways to save on software while maintaining the efficiency and performance required by the organization.
By proactively managing software expenses, you can free up resources that can be reinvested in strategic initiatives that improve financial processes (such as forecasting, modeling, etc.) as well as drive business growth and innovation.
Some of the benefits of efficient SaaS cost management include:
Cost savings
Improved productivity
Enhanced security and compliance
Better decision-making
---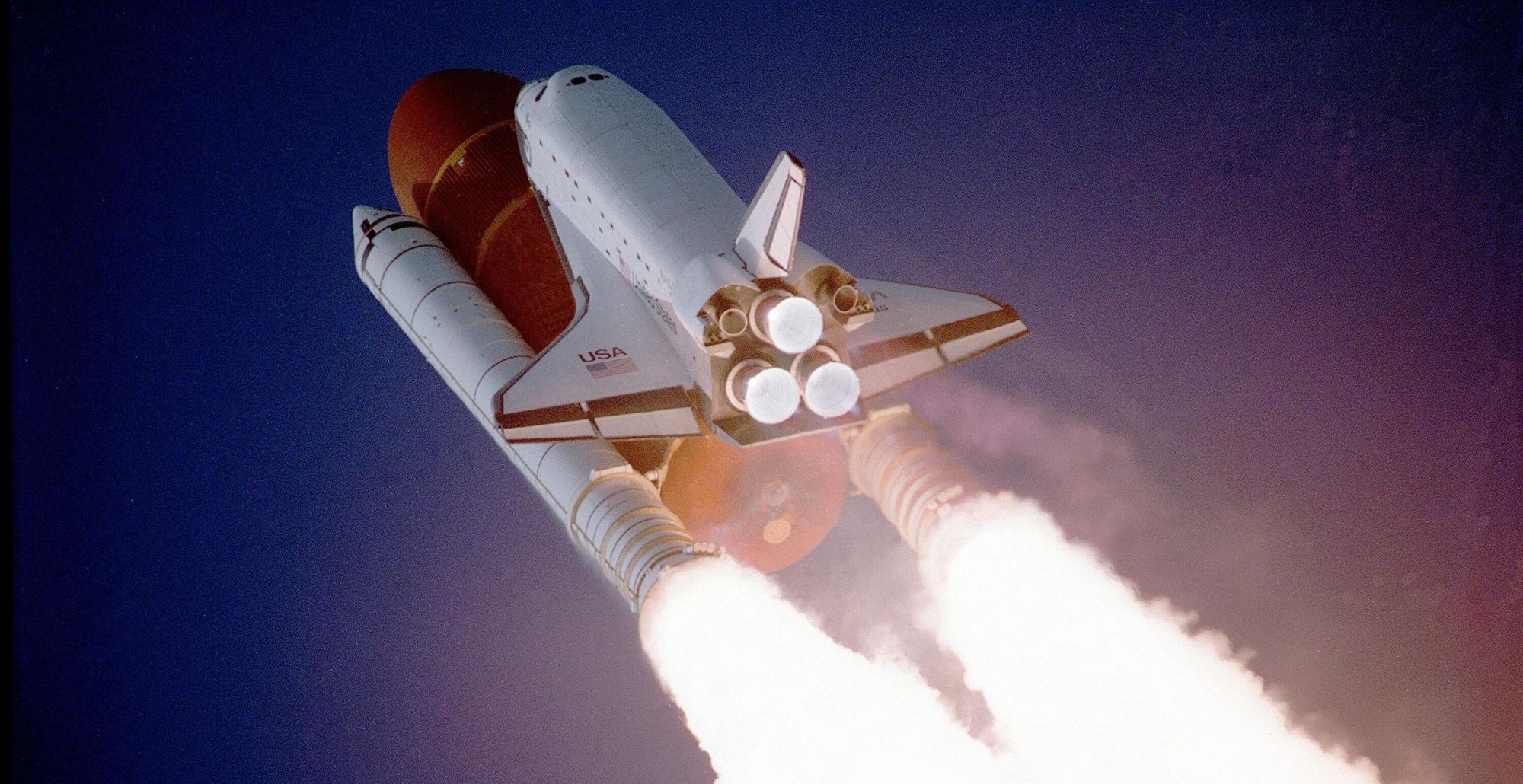 ---
Top CFO challenges in SaaS cost management
Shadow IT and decentralized purchasing
CFOs, brace yourselves for shadow IT and decentralized purchasing – two sneaky culprits that can mess with your SaaS management efforts. They creep in when employees or departments buy software without looping in IT or finance, making it tough to keep track of spending and spot security risks.
Inefficient contract management
Many CFOs struggle to manage contract terms, renewal dates, and usage limits. But with a little organization and vigilance, you can master contract management, snag better deals, and avoid surprise expenses.
Incomplete or inaccurate usage data
A clear view of SaaS usage is crucial for CFOs but gathering accurate data can be a difficult task. Don't let incomplete or inaccurate info derail your cost management efforts – dive deep into the data, spot underutilized or redundant software, and optimize your licenses.
Balancing cost and performance
Last but not least, it's all about finding that sweet spot between cost savings and performance. While trimming SaaS expenses is essential, going overboard can stifle productivity and innovation. Assess the value and impact of each tool to ensure your cost-cutting moves don't hamper your organization's growth and success.
---
How to identify and categorize SaaS expenses
You can't optimize what you can't see. So, first things first, it's time to shine a light on all those SaaS expenses hiding in the nooks and crannies of your company. Gather data from every department, and don't forget to include any off-the-books subscriptions that might be lurking. The more thorough you are, the better your chances of finding hidden cost-saving opportunities.
Now, let's talk about categorization. To make sense of your SaaS expenses, sort them into meaningful categories that align with your organization's structure or goals. Think of it as putting together a SaaS spending puzzle – each piece will fit neatly into place, revealing a complete picture of where your money's going.
By gaining total visibility into your SaaS spending, you'll be empowered to make data-driven decisions that'll positively impact the bottom line.
---
9 tips to help CFOs manage SaaS spend
Ready to optimize your SaaS spend and make every dollar count? We've got some practical, tried-and-true strategies to help you prioritize SaaS spend optimization.
1. Renegotiate contracts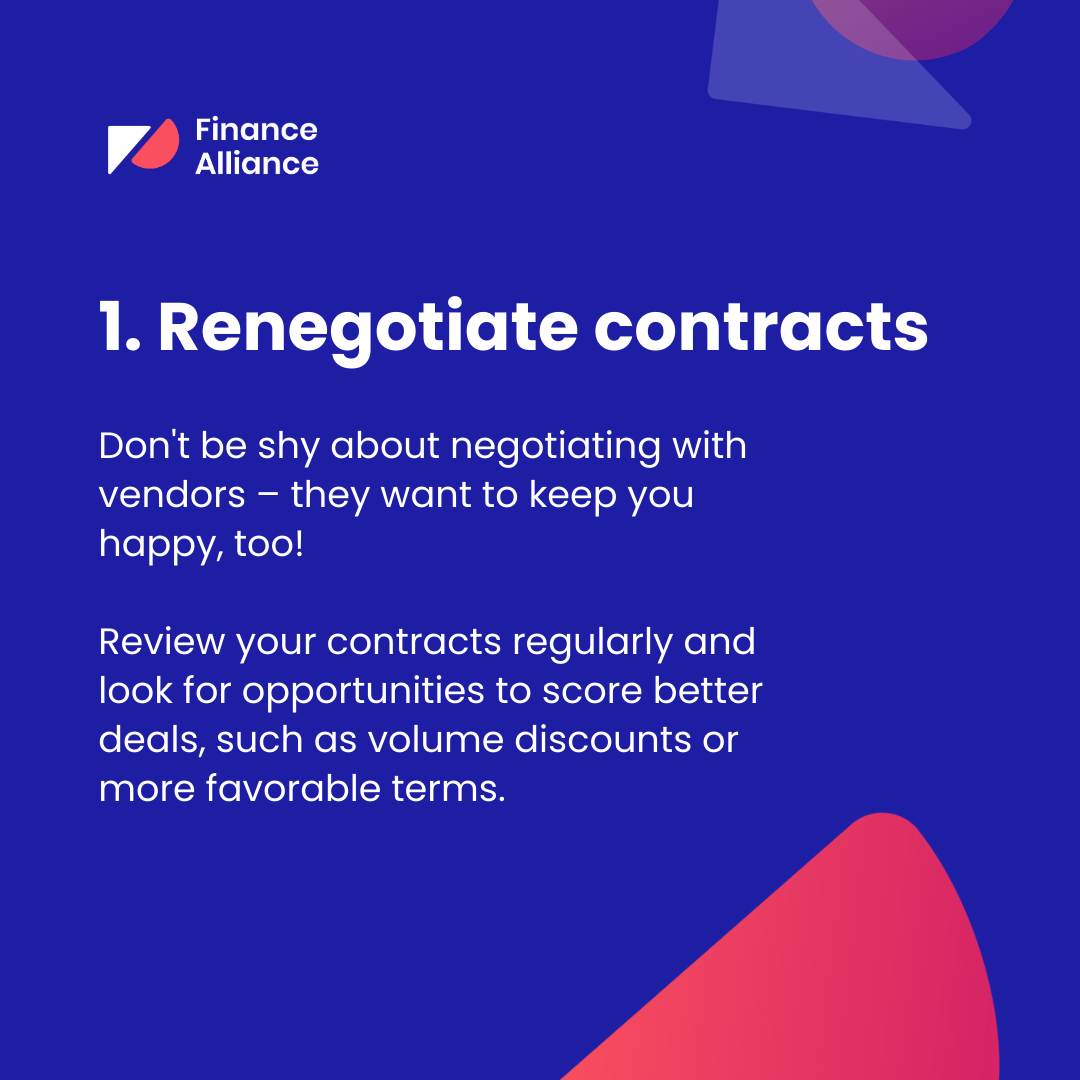 Don't be shy about negotiating with vendors – they want to keep you happy, too! Review your contracts regularly and look for opportunities to score better deals, such as volume discounts or more favorable terms.
2. Consolidate software licenses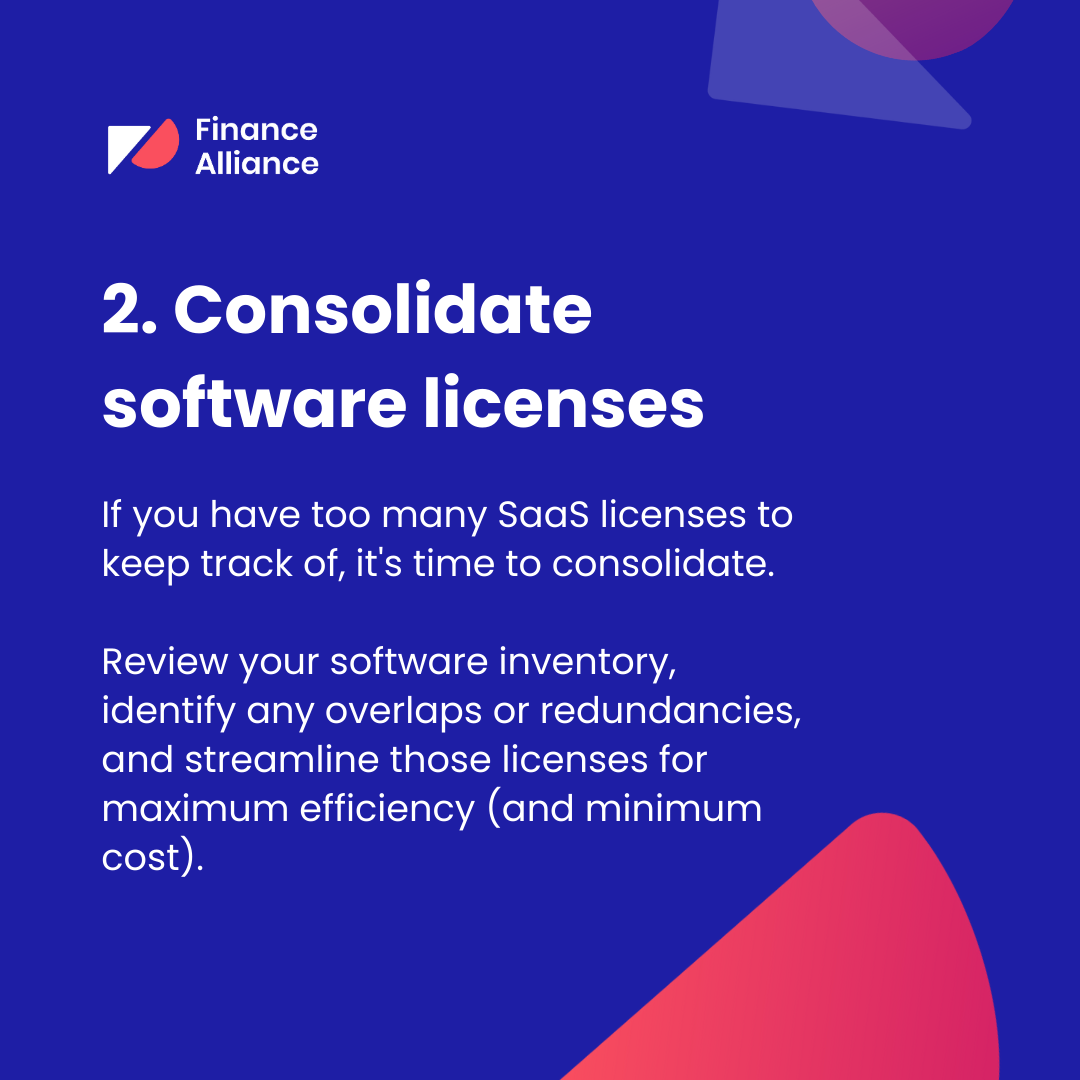 If you have too many SaaS licenses to keep track of, it's time to consolidate. Review your software inventory, identify any overlaps or redundancies, and streamline those licenses for maximum efficiency (and minimum cost).
3. Cut unused or redundant subscriptions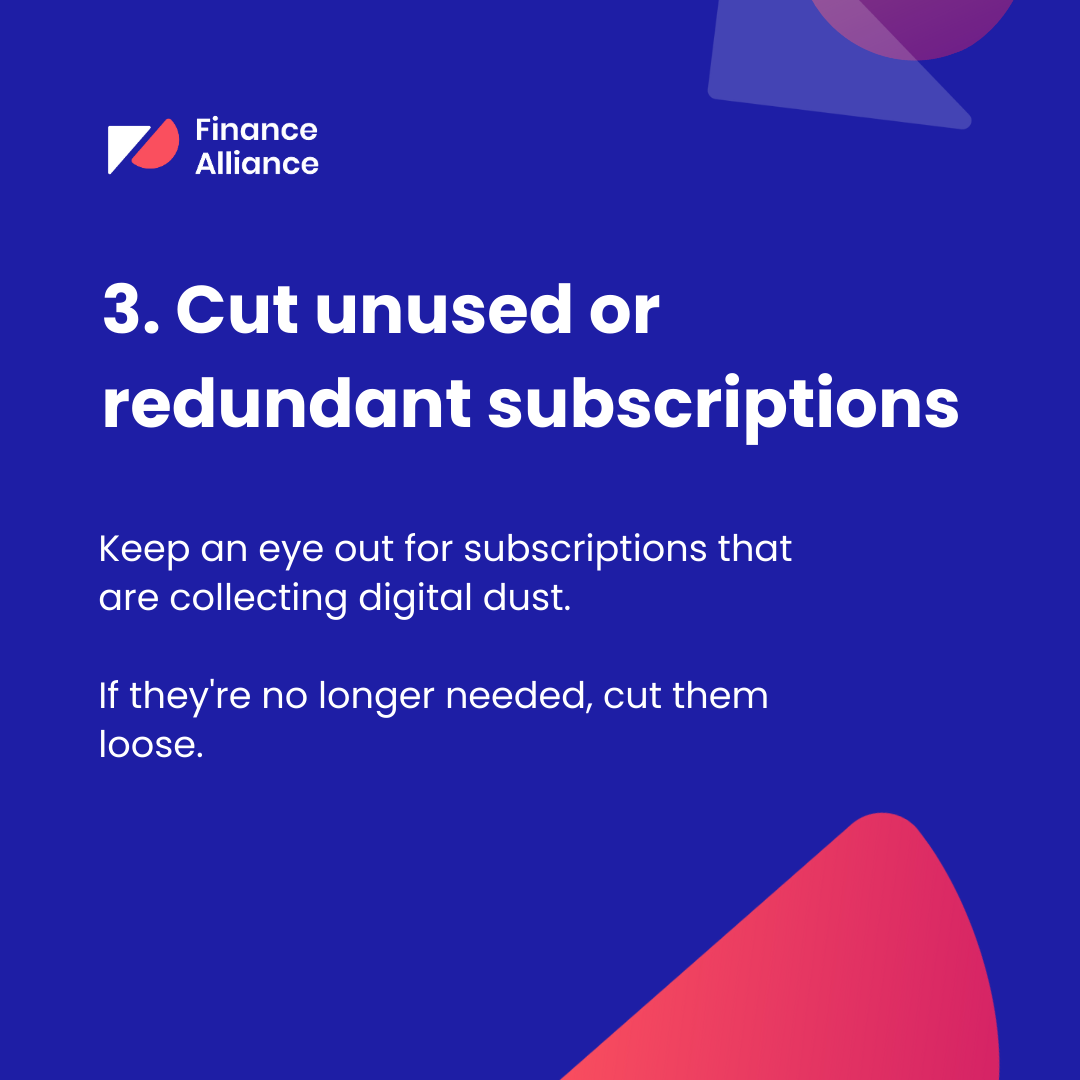 Keep an eye out for subscriptions that are collecting digital dust. If they're no longer needed, cut them loose, which will help reduce SaaS spend.
4. Create a centralized procurement process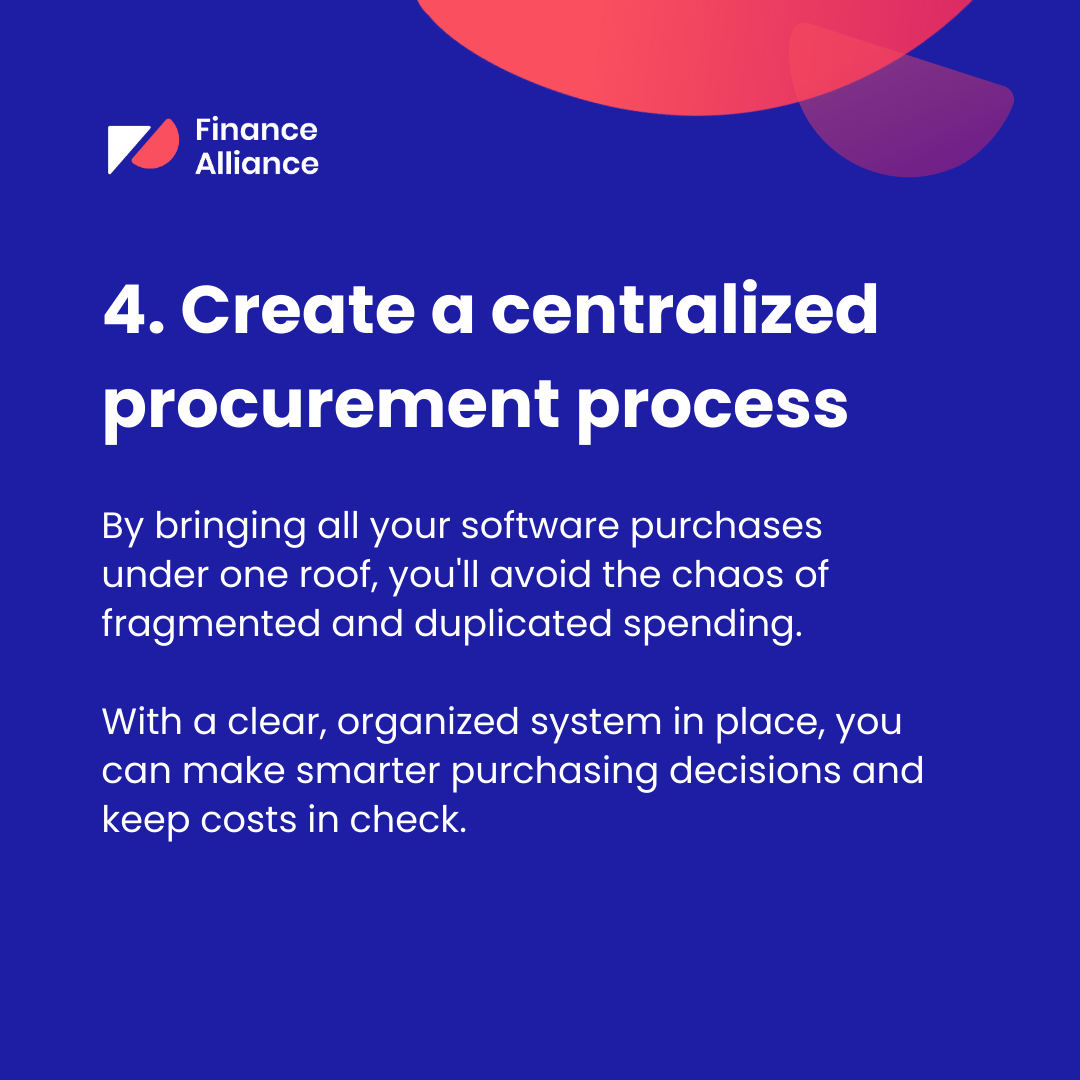 By bringing all your software purchases under one roof, you'll avoid the chaos of fragmented and duplicated spending. With a clear, organized system in place, you can make smarter purchasing decisions and keep costs in check.
5. Track and monitor usage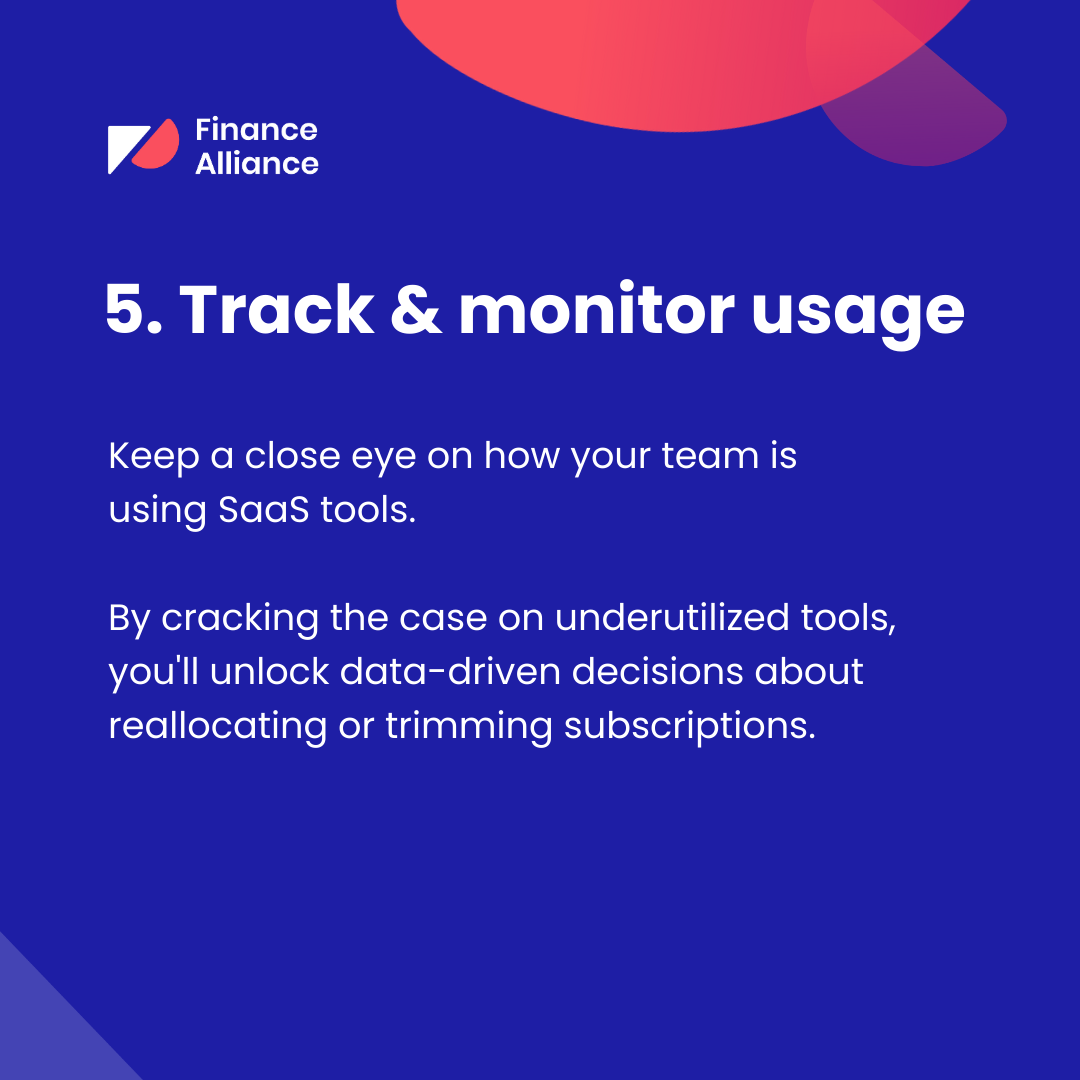 Keep a close eye on how your team is using SaaS tools. By cracking the case on underutilized tools, you'll unlock data-driven decisions about reallocating or trimming subscriptions.
6. Align SaaS purchases with business goals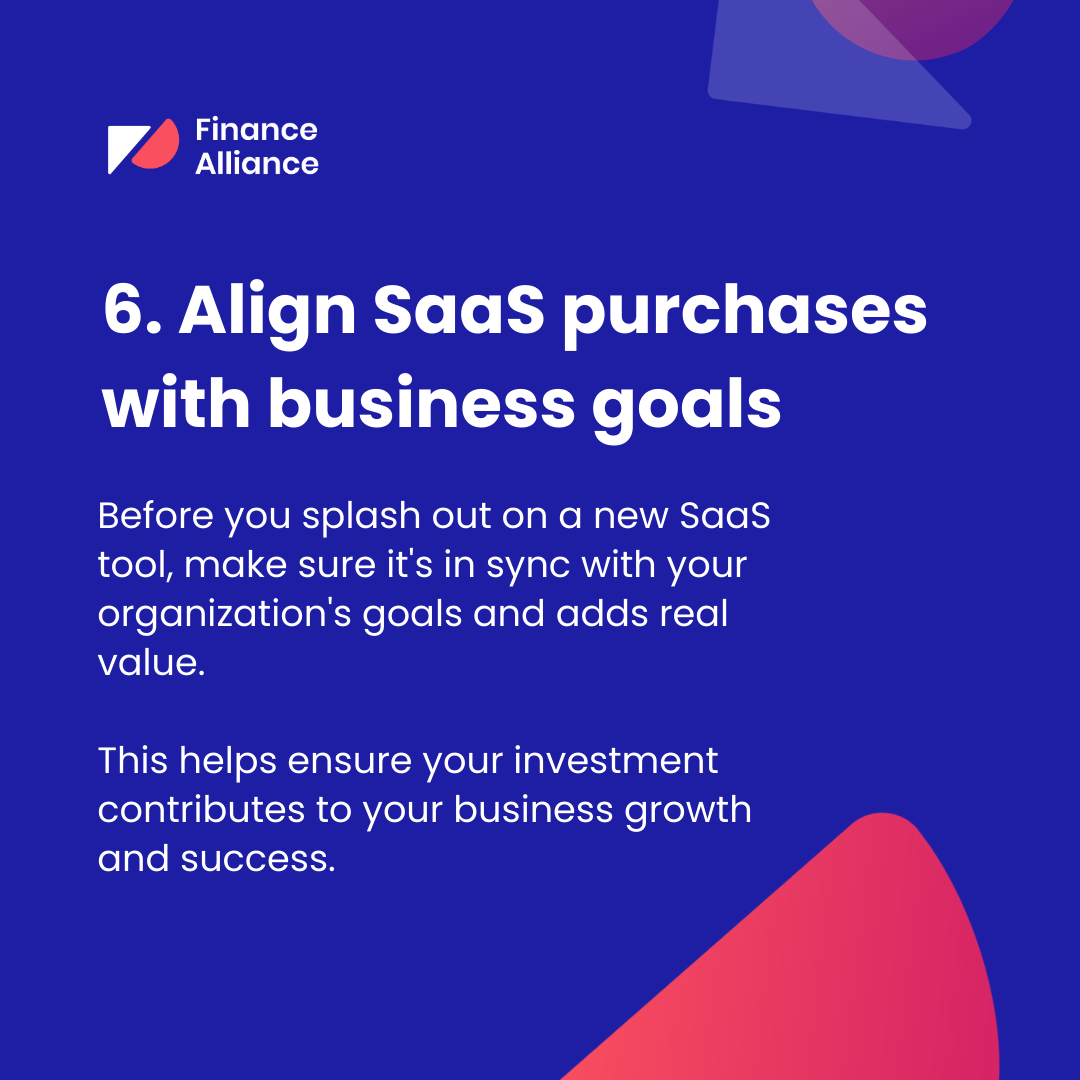 Before you splash out on a new SaaS tool, make sure it's in sync with your organization's goals and adds real value. This helps ensure your investment contributes to your business growth and success.
7. Encourage cross-department collaboration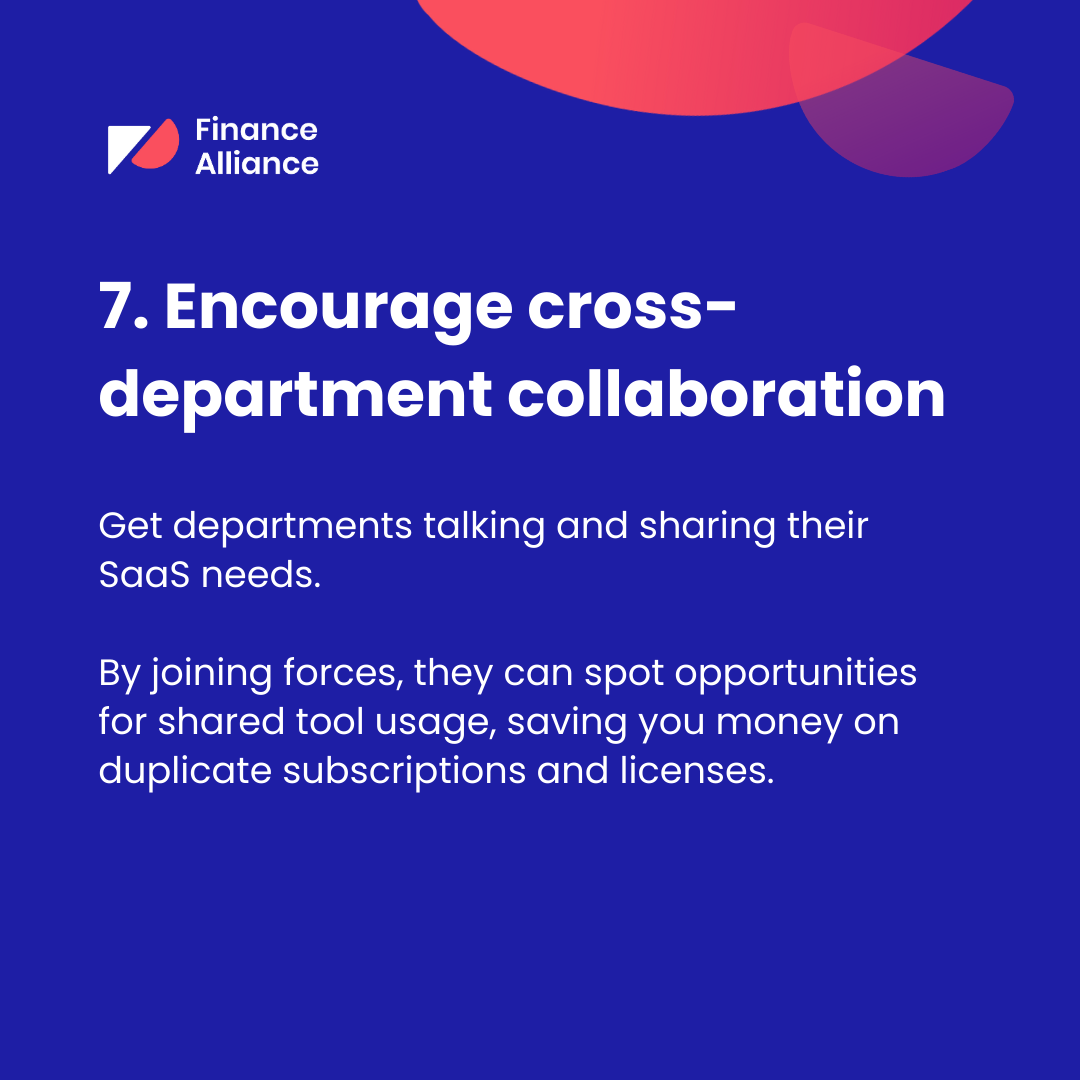 Get departments talking and sharing their SaaS needs. By joining forces, they can spot opportunities for shared tool usage, saving you big bucks on duplicate subscriptions and licenses.
8. Opt for annual billing plans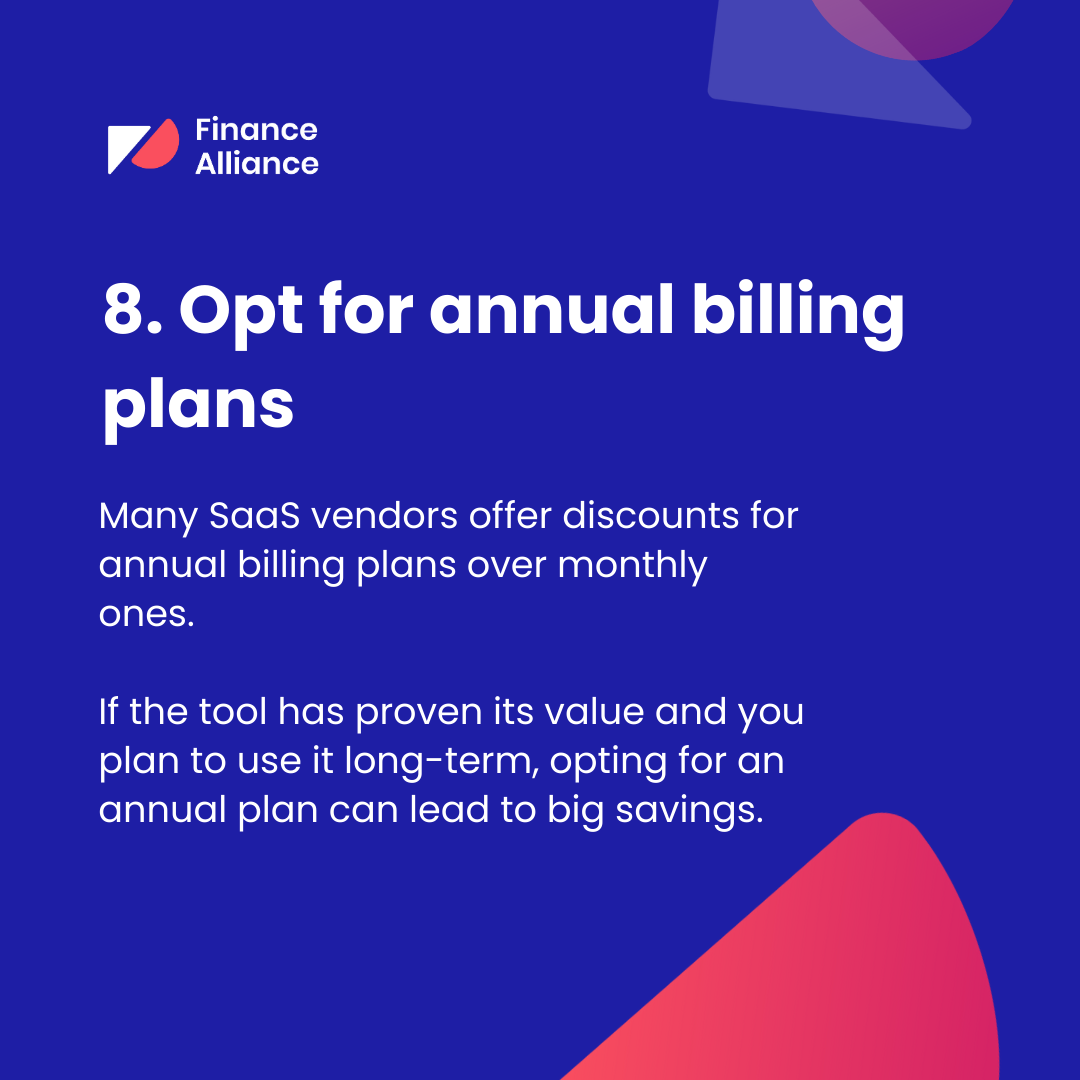 Many SaaS vendors offer discounts for annual billing plans over monthly ones. If the tool has proven its value and you plan to use it long-term, opting for an annual plan can lead to big savings.
9. Test-drive SaaS tools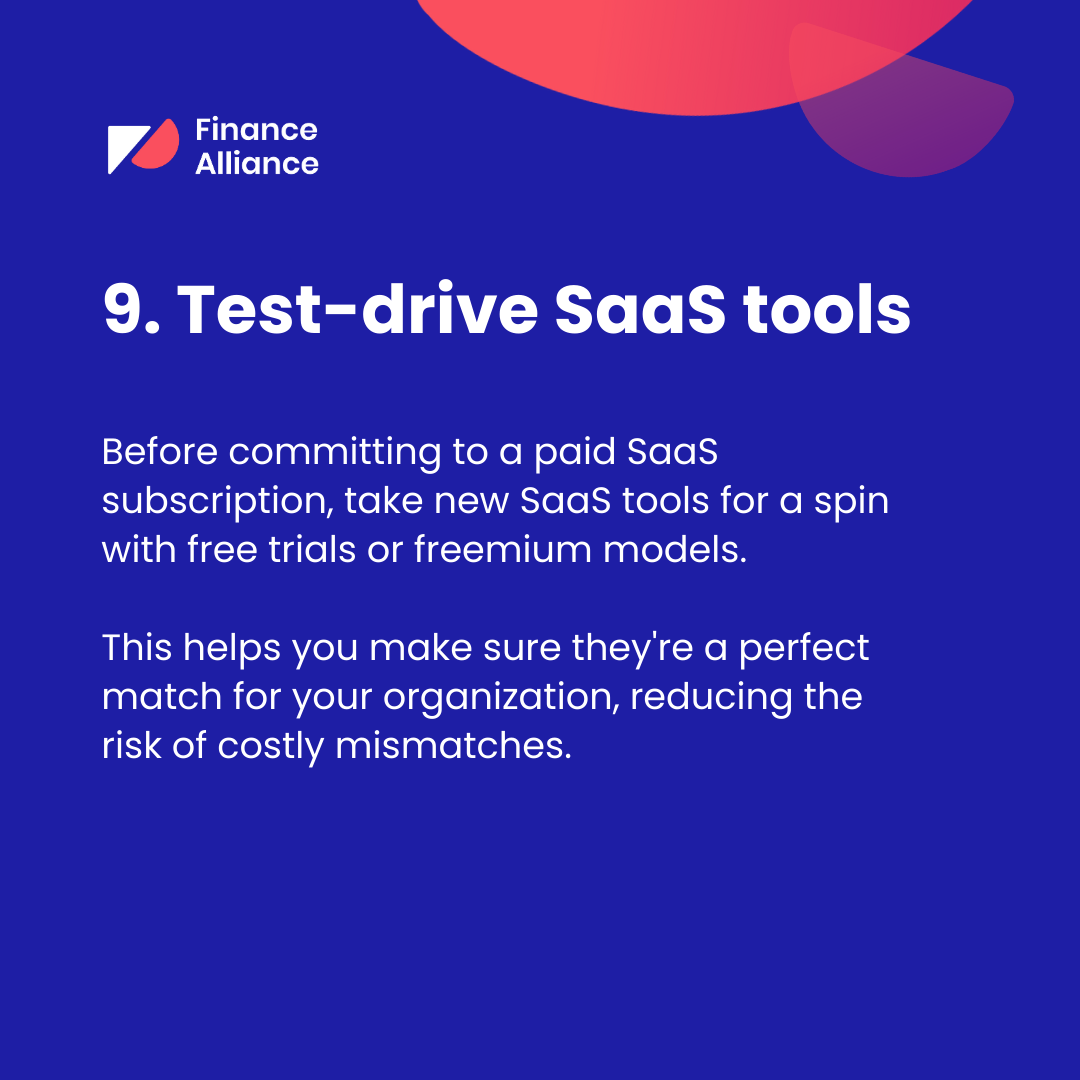 Before committing to a paid SaaS subscription, take new SaaS tools for a spin with free trials or freemium models. This helps you make sure they're a perfect match for your organization, reducing the risk of costly mismatches.
---
Choosing the right SaaS management software
With so many SaaS spend management tools on the market, picking the right one can be a challenge. But fear not, we've got your back with a list of things to consider and a fantastic resource to help you out!
Here's what to watch out for when selecting the right tool or software:
Seamless software discovery, purchasing, admin, and cancellation.
The ability to benchmark, cut costs, and set the right processes in place.
A positive impact on KPIs like employee churn, CSAT, ARR, cash flow, and compliance.
To make your decision-making journey even smoother, we've got an amazing eBook (courtesy of Cledara) packed with insider info: "Digital Transformation in Finance: How CFOs Can Save on Software and Scale."
It's brimming with stats, insights, and actionable tips to help you choose the right tool and transform your organization's SaaS cost management.
Download the eBook now and unlock the secrets to conquering your SaaS cost management challenges.👇
---
FAQs - SaaS spend management
What is SaaS cost management?

SaaS cost management is the process of monitoring, analyzing, and controlling expenses related to cloud-based software-as-a-service (SaaS) applications. This practice aims to maximize value, minimize unnecessary spending, and ensure efficient use of resources across an organization's software subscriptions.
How is SaaS cost calculated?

SaaS cost is typically calculated based on the subscription model and pricing tier chosen by an organization. Factors that can influence the cost include the number of users or licenses, storage capacity, features, and functionality. Some SaaS providers may also charge additional fees for customization, integrations, or premium support.
How do I optimize my SaaS spending?

To optimize SaaS spending, you can regularly review and audit your software subscriptions, identify and eliminate unused or redundant applications, renegotiate contracts and seek volume discounts, consolidate software licenses, and adopt a centralized procurement process
What is SaaS spend management?

SaaS spend management is the practice of overseeing and controlling the costs associated with acquiring, using, and maintaining software-as-a-service applications within an organization. It involves strategic planning, budgeting, and monitoring of expenses to ensure optimal use of financial resources and alignment with business objectives.