Julio García is the CEO and Founder of J&C Financial, where he is currently forging a new initiative developing his financial consulting firm, acting in the roles of CFO and FP&A for Mexico.
Alongside running his own consultancy, Julio is a Senior Associate Public Accountant of the IMCP (Mexican Institute of Public Accountants) as an independent professional serving the collegiate in matters of SME Consulting and Consulting for Individuals.
Julio is also an active member of the Finance Alliance Slack community, a supportive, informal, and inspirational space where finance leaders can gather and discuss with like-minded people. From sharing ideas to offering advice to your peers, our Slack community is the ultimate space for finance pros who want to accelerate their careers.
In this case study, Julio shares his thoughts and experience as an active member of our community:
What was your motivation for joining the Finance Alliance Slack community?
Business units need leaders with a global vision. Sharing experiences in a transcendental way has a great impact to help us learn from others within the community.
I also appreciate having the opportunity to get great feedback from financial professionals from global sectors.
What are the main benefits of being in the Slack community?
I can summarize three competitive advantages:
The platform is very user-friendly and segregated according to the Finance Alliance's mission.
The synergy starts as soon as we accept the emotion of sharing our experiences and the novelty that is workable for each position and in each situation.
Self-directed networking is exciting.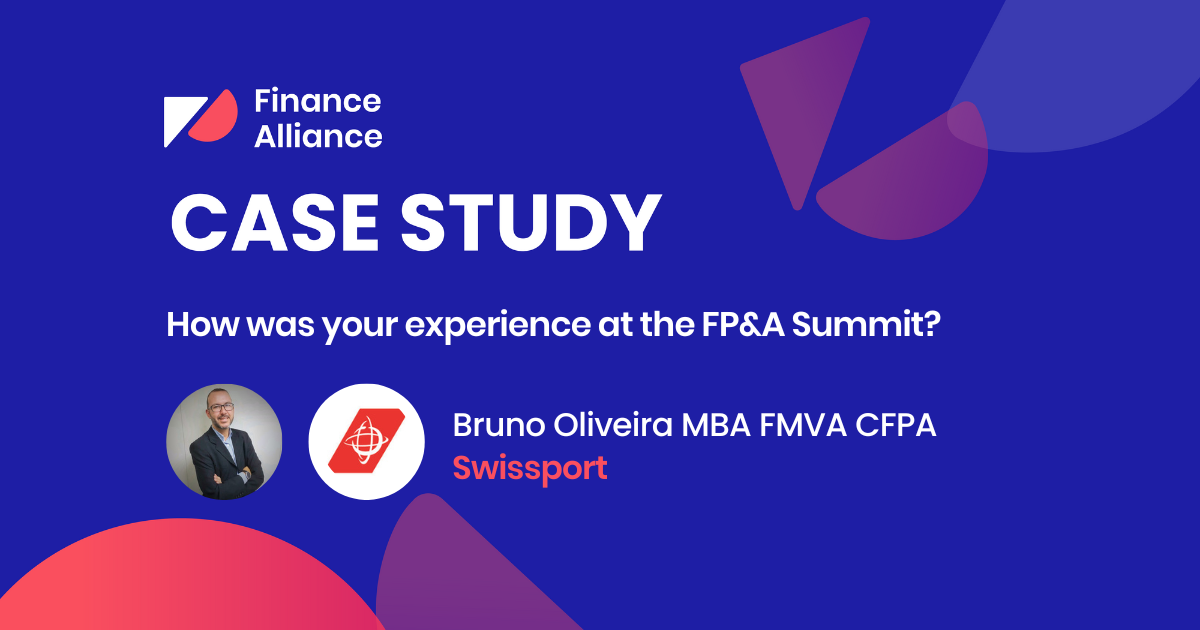 What have you enjoyed most since joining?
The content, the topics of interest, and the recent FP&A Summit.
What type of discussions have you found the most insightful and useful?
The synergy of roles, the strategic planning regarding some of the content items of good management, and the use of money over time. Of course, all of this adds to what I have experienced objectively.
What type of resources have you found the most helpful?
CFO & FP&A Content. I have also built up connections with the excellent Finance Alliance team.
What key outcomes have there been for you?
Tips and scenarios that add up to my perspective, improving it globally.
Why should other finance professionals join the community?
To be different, we have to get out of the comfort zone of the region to which we belong. The industry and external factors require us to make better decisions and to be open to other perspectives.
About Julio
In the last 12 years, Julio (Mexican nationality) became a senior business partner in the management of the transnational BOSKALIS, a leader in the international maritime construction of complex projects. With a history of working in the corporate world, supporting management on strategic and operational issues, Julio has had a number of roles from Project Accountant, Accounts Payable Specialist, Sr. Financial Accountant, Accounts Payable Leader in Mexico to Regional Treasurer in Mexico, Central America, and the Caribbean.
Julio is spontaneous, collegial, takes initiative, is hands-on, analytical, and precise in his work. He has the ability to look beyond the question at hand. He likes to connect in teams with problems and projects to find the best solution. His mission has been to contribute to his organization and help bring it to the next level. Always collaborating as a team to achieve synergy between his area and others, to be part of the same goal, and assuming the commitments of the organization with conviction and professionalism.
---
Join the Finance Alliance Community
Sign up to our free Finance Alliance Slack community and start networking with other CFOs and finance leaders. Share ideas, ask questions, discover new talent, and grow your network within one of the most engaged communities of finance professionals in the world.
So, what are you waiting for?
Sign up today! (it's free)