Suppose an organization wants to transform and survive in the digital age. In that case, they need a robust and holistic enterprise-wide digital transformation strategy with a clear roadmap and a carefully crafted blueprint to integrate digital technologies such as social, mobile, big data, analytics, cloud, AI, machine learning, etc.
Strategy, not technology, drives digital transformation
Without a strategy, we are just solving individual business problems with individual technologies by implementing piecemeal and unconnected digitalization.
A finance transformation strategy is not a standalone strategy. It must align with an enterprise-wide digital transformation strategy that connects the dots of all digital transformation workstreams in the organization. Everything must work together to deliver one integrated digital ecosystem with one single source of truth.
Without one single source of truth, the summation of two half-truths might not be equal to one whole truth. It could be one whole lie.
(1/2 truth) + (1/2 truth) is not equal to (1 truth) but it can be equal to (1 lie)
In this article, I cover three integrated enterprise digital ecosystems and answer these questions:
Enterprise Digital Platform

Enterprise Digital Platform overarches three major integrated enterprise digital ecosystems:
ERP (Enterprise Resource Planning)
EPM (Enterprise Performance Management)
ERM (Enterprise Risk Management)
Below is a brief description of each one of them...
ERP (Enterprise Resource Planning)

ERP is an integrated end-to-end business management information system. It processes financial and operational data and allows an organization to manage various resources to make sure they're utilized cost-effectively. It's also designed to make sure that all resources are being used efficiently.
The ERP system, being continuously updated in real-time, ensures up-to-date information is available and accessible by each department. It also shares information between departments. In turn, this enables an organization to manage the business operation in an interconnected way from the back office to the front office.
ERP systems typically include the following characteristics:
An integrated business management system
Operates in real-time or close to real-time
A shared and common database for all the applications
A consistent feel and look across all modules
On-premise, cloud, or SaaS (Software as a Service)
ERP systems cover a lot of different areas within a company. These include but are not limited to the following:
Financial and Management Accounting
Order and Sales Processing
Customer Relationship Management (CRM)
Supplier Relationship Management (SRM)
Supply Chain Management (SCM),
Human Resource Management (HRM)
Project and Service Business Management.

As the initial ERP system reached its maturity with wide adoption in most organizations, Gartner coined "ERP II" in 2000 as web-based software that provides real-time access to ERP systems to employees and partners, such as suppliers and customers.
The ERP II role expands traditional ERP resource optimization and transaction processing. It leverages information in the resources under its management to help the enterprise collaborate with other enterprises.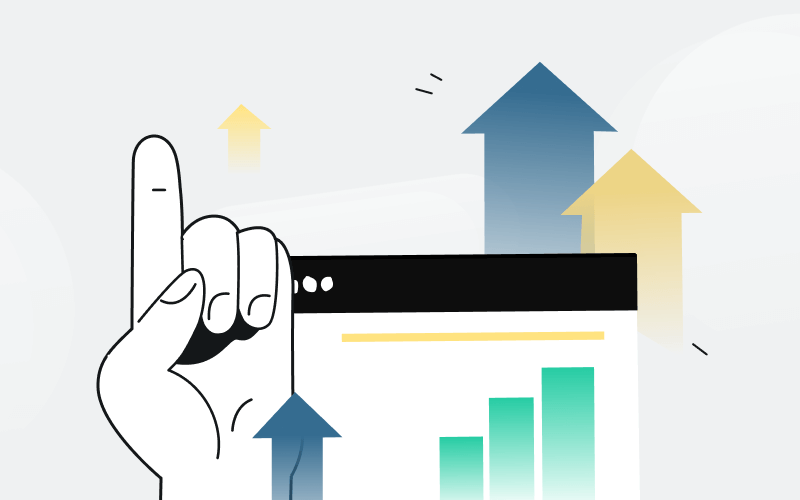 Rather than confine ERP system capabilities within the organization, ERP II goes beyond the corporate walls to interact with other systems. ERP II systems are typically used to enable collaborative initiatives. This includes supply chain management (SCM), customer relationship management (CRM), and Business Intelligence (BI) among business partner organizations through the use of various electronic business technologies.
Developers now make more effort to integrate mobile devices with the ERP system. ERP vendors are extending ERP to these devices, along with other business applications, so that businesses don't have to rely on third-party applications.

EPM (Enterprise Performance Management)

EPM consists of multiple application layers on top of the core ERP system to deliver a data-driven, analytics-enabled, and AI-powered decision support system. It enables finance organizations to step up and focus on advanced analytics to provide in-depth business insights enabling better decision making. FP&A (Financial Planning and Analysis) function synthesizes a vast amount of financial and non-financial data, structured and unstructured, gathered from IoT-enabled ERP systems and other sources, queries the results in natural language, and applies machine-learning capabilities to data analysis.
EPM with predictive analytics leveraging Artificial Intelligence (AI) and Machine Learning (ML) capabilities significantly enhances insights, efficiency, and speed. Reporting the past will become more efficient, allowing the finance team to shift their focus on insights and foresight to deliver significantly more value to the business – quickly, in real-time, at greatly reduced cost with higher levels of automated control and lower risk.
However, it is unfortunate that today, we start to see that the data quality and data consistency issues are surfacing with the implementation of multiple disintegrated EPM applications. Despite investment in many advanced EPM tools and technologies, finance organizations are still limited in their ability to deliver adequate decision support to the organization. Based on a survey, it was estimated that 80% of EPM implementations failed to deliver the expected results.
This is mainly because EPM implementation is largely driven by technology offerings and implemented under an uncoordinated silo departmental digital transformation strategy. This results in a lack of understanding of the real business' critical performance metrics, which limits the organization to integrate business intelligence and analytics into business operations to extract the real value for performance management.
ERM (Enterprise Risk Management)

Risk is inherent in everything we do. The risks that we have to manage are not static and evolve quickly. Hence, we need to make sure that we properly manage risks so that we can minimize their threats and maximize their potential.
ERM is the governance, risk, and compliance management control system that enable organizations to manage and safeguard various types of risks related to the business landscape, such as financial risks, operational risks, and strategic risks. It helps companies detect, monitor, and avoid risks more effectively than humans could do.
Organizations have streams of information that they use to identify risks. ERM is about identifying risks that can impact a company, deciding which risks should be actively managed, and then planning how to handle them. Each decision should be transparent and risk-informed. Very often, ERM is integrated with business operations managed in an ERP system and with strategic and performance management managed in an EPM system.
In Summary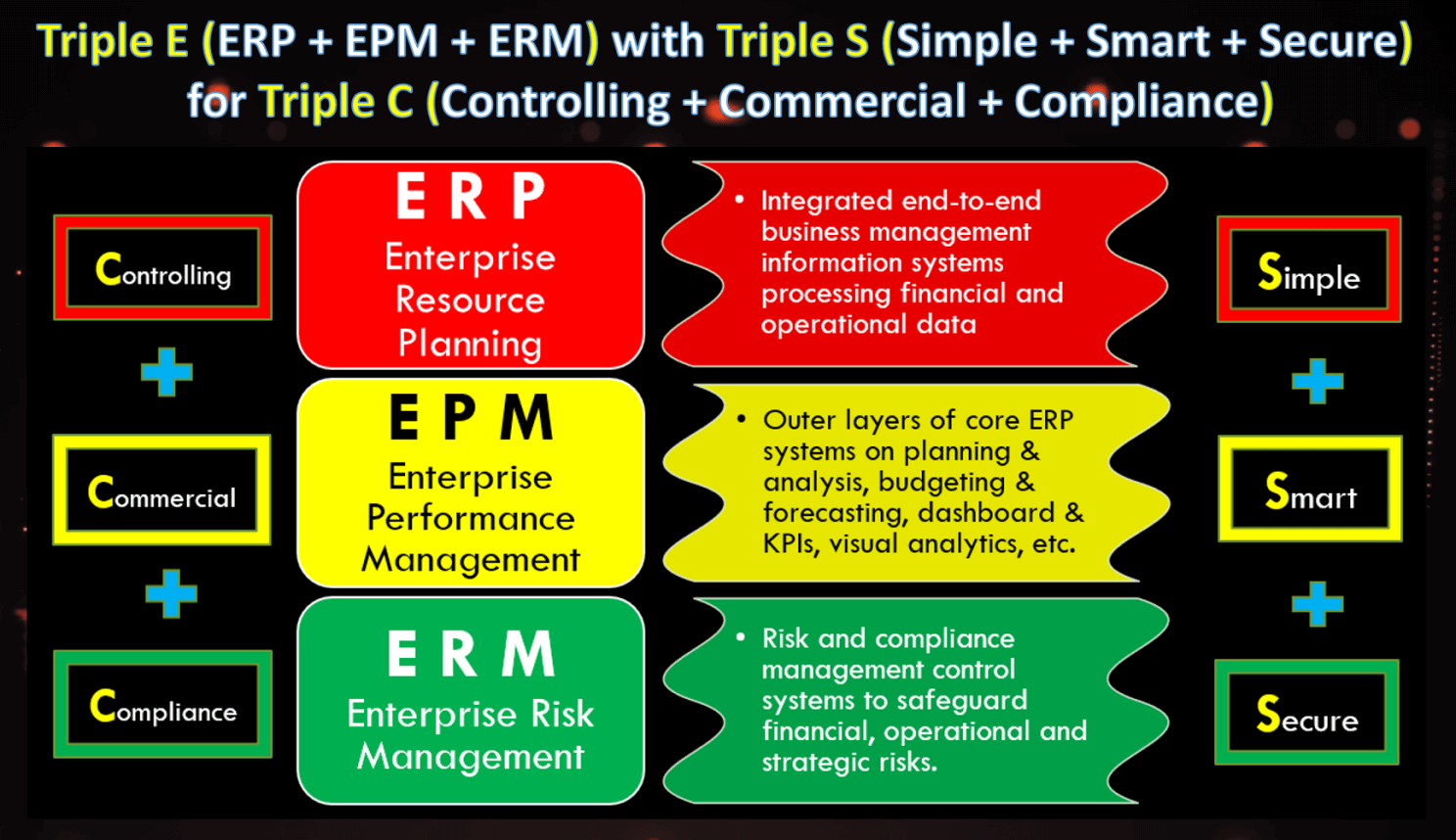 The One Connected Enterprise Digital Platform consists of Triple E (ERP, EPM, ERM) that manages different aspects of business operation in Triple C (Controlling, Commercial, Compliance) to deliver excellent performance (efficiency and effectiveness) with Triple S (Simple, Smart, Secure).
In other words,
ERP is for CONTROLLING. It has to be SIMPLE to achieve Operational Excellence.
EPM is for COMMERCIAL. It has to be SMART to achieve Commercial Excellence.
ERM is for COMPLIANCE. It has to be SECURE to achieve Governance Excellence.
Simple and Secure deliver Efficiency. Smart and Secure deliver Effectiveness.
After one connected enterprise digital platform is properly put in place, the transformation journey continues to the next stage with the adoption of big data and cloud computing technology to improve the available data, the accessibility of data, the speed of data processing, and the agility in data management.
With the maturity of automation technology implementation, organizations turn to intelligent technology to enhance their digital platform with artificial intelligence, machine learning, advanced analytics, etc. This promotes both efficiency-focused and intelligence-focused digital transformation.
---
Searching for more resources and advice?
Sign up to our free Finance Alliance Slack community and start networking with other CFOs and finance leaders today!