We recently wrapped up another exciting FP&A Summit and this time, it was a virtual event, which meant lots of different finance professionals from around the world attended.
But as always, the stars of the show were our outstanding speakers. Handpicked for their expertise and ability to captivate audiences, these brilliant minds from the world of finance shared their industry secrets and innovative strategies with our audience.
While we take great pride in the content we deliver, nothing speaks to the success of an event quite like the feedback from our valued attendees. That's why we're thrilled to share some feedback we got from an attendee and a valued member of our community, Ahmed Morsy.
Ahmed is a Financial Reporting Manager who's not only been a consistent participant in our events but also a passionate supporter of our mission to upskill the finance community. His feedback not only gives us insight into his personal experience at the FP&A Summit but also offers a glimpse into the impact our summit has on our global attendees.
So without further ado, let's dive into what Ahmed had to say...
What inspired you to attend our event?
I was impressed with the event's topics and the high number of professional speakers at the event.
Did the event meet your expectations?
Yes, it was outstanding and the topics were very interesting.
What did you enjoy most about the event?
The FP&A Summit was really helpful, I enjoyed it to the max. Katrina Martinez's session, "How to differentiate yourself in an AI World", was really amazing.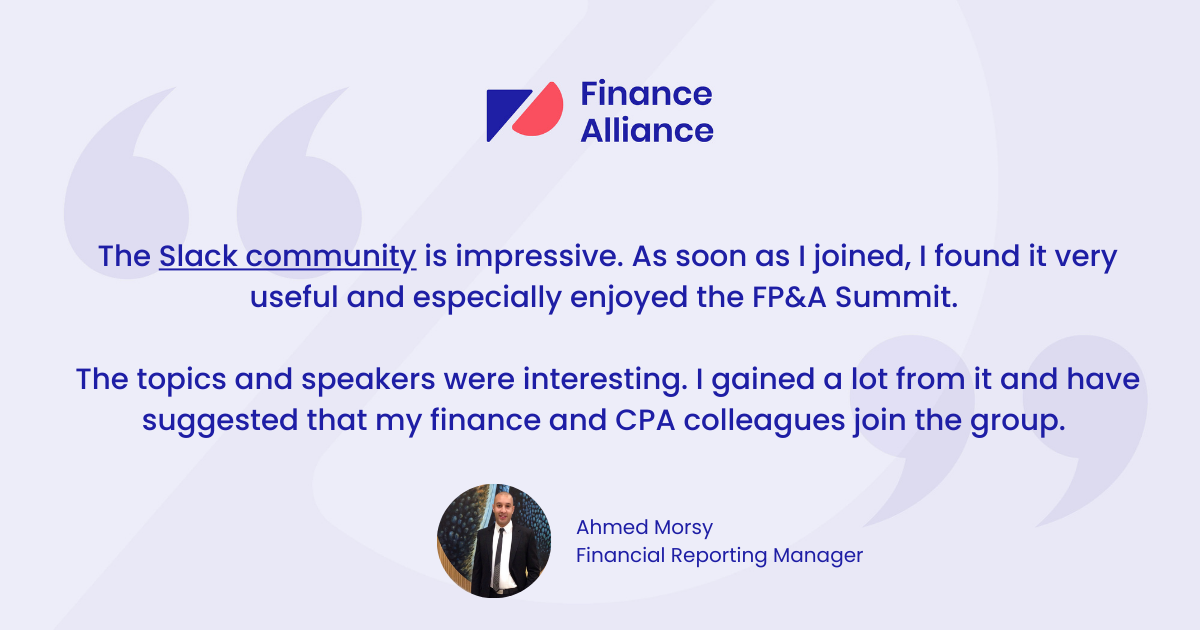 Did you learn anything new from the event?
Yes, AI will have an impact for sure and we need to use it as a tool for improvements.
Would you recommend attending our finance alliance event to other professionals in your field?
Sure I will, the events are useful for finance professionals.
Are there any topics or areas of expertise you'd like to see covered at future events?
More details on how to use AI to improve our duties and enhance our analysis.
---
Don't miss our next event!
Network with like-minded finance experts to benchmark your processes, rejuvenate your strategies, and accelerate your career growth when you attend any of our events!
Join our finance community (it's free!)
Ready to power-boost your career and take it to new heights? Then don't wait any longer!
Join our community of finance professionals and start networking with brilliant, like-minded professionals, benchmark your methods against the best, give a fresh, invigorating touch to your strategies, and kickstart your journey toward phenomenal career growth.