Finance Alliance | Slack Newsletter
This week at the Finance Alliance 29/09
🔥 Hot off the Press

"The culture is vibrant, collaborative, & intellectually stimulating." - Imane Haouassia Case Study

Imane Haouassia, Head of Finance at HAAT Delivery, wanted to stay connected with like-minded experts and explore current topics that were shaping the finance industry. Her search for these things brought her to our community and she has since become one of the most active, helpful, and inspiring members of our free Slack community. In this case study, she tells us what she has enjoyed the most since joining our community, her networking experience, whether she recommends that others join too, and more.
CapEx vs OpEx | Differences, examples, & importance
If you're knee-deep in the world of budgeting and financial planning, you've probably come across the terms "CapEx" and "OpEx" more times than you can count. But what exactly do these abbreviations mean, and why should you care?
How to leverage AI in finance with Christian Martinez
We recently held an Ask Me Anything (AMA) session inside our Slack community with Christian Martinez, Finance Manager at Kraft Heinz. So, Christian answered our members' burning questions about how to successfully leverage AI tools in finance, and much more. Below, you'll find some highlights from the session, where Christian shared valuable insights and tips with our members.
If you'd like to write a case study like this for us and be featured in our blog, reach out to sabrinthia@financealliance.io
---
🤩 Finance Alliance ambassadors 🤩
The Finance Alliance ambassador program is open again to applications.
✍️ Do you want to contribute to our community content?
🫂 Do you want to help run meetups in your area?
💡 Do you want to become an ambassador for Finance Alliance?
💖 Then you're a perfect match. 💖
Apply here to register your interest by October 18.
---
Finance Alliance Awards 🏆
Finance Alliance awards season is officially HERE. 🔥
We're celebrating the Finance folks making waves and phase one is officially underway - which means it's time to get voting. 👇
Whether it's you (don't be modest 😉) or someone you know, we want to hear who you think should take the title of 2023:
→ Finance Leader of the Year 2023
→ Finance Team of the Year 2023
→ Lifetime Achievement Award in Finance 2023
Voting closes October 4.
For the community, nominated by the community. Don't miss your chance to get involved!
---
Did you know that the time finance teams spend on manual bank portals is not as "cost-free" as you might think? 👀
From human error to increased fraud risks, the costs are too high to ignore.
Discover the smarter, safer way to handle your finances with help from our eBook, which covers:
📊 The real costs of manual banking processes.
🤔 Bank integration decoded: Your best choices.
🛡️ How to combat risks with bank integration.
🚀 Success stories from those who switched and thrived.
…and so much more.
---
📱 Think strategically about your software
Research shows that:
💰20% of businesses feel their SaaS subscriptions add value
📉58% think managing software reduces productivity
🤝 53% think tools across their org can hinder collaboration
So how can you maximize ROI and cut costs? We reveal all in our brand-new eBook.
Dive in and discover the tips and tricks you need to benchmark your tech stack, cut your software expenses and save and scale your org efficiently. 💡
---
💭 Are you involved in GTM in your organization?
Whatever your contribution to Go-to-Market, we want to hear from you!
With this year's State of Go-to-Market survey, we're doing things differently. There's no one team that makes up a GTM strategy, which means a comprehensive Go-to-Market report can't focus on just one team either.
With this report we're focusing the spotlight on you, the people who make Go-to-Market happen, to ensure your peers understand your responsibilities and challenges in the GTM process. Because when you're all speaking the same language you'll be able to Go-to-Market better, together.
---
📚 CFO Book Club
If you're passionate about learning, growth, and staying ahead of the curve – you're in the right place. 📈
Make sure you join the #cfo-book-club channel in the Finance Alliance Slack by adding the channel.
Each month, we'll be selecting a new 'Book of the Month' through community polls, so you can have a say in what we read next. And we'll cap it off with an online meet-up where we'll discuss the book together, led by a member of the CFO Book Club team.
We'll also be inviting authors and industry experts to join us for live Q&A sessions, so you can get your burning questions answered and learn from the best.
Let's dive in and start reading! 🚀
---
📣 2023 Speakers
Fancy gracing the stage at an upcoming Finance Alliance event? Whether in-person or virtual, discussing finance transformation, FP&A, or leadership we've got an opportunity for you. Submit your proposal.
---
💻  The Finance Forum Webinar
Join Imane Haoussaia, Head of Finance at HAAT Delivery, as she presents 'Navigating Financial Landscapes: Strategies for Mitigating the Impact of Inflation.'
Discover the top techniques to handle inflation for businesses 📈
🗓 October 11
⏰ 5pm BST
📍 Online
Sign up today - you won't want to miss this one 🤩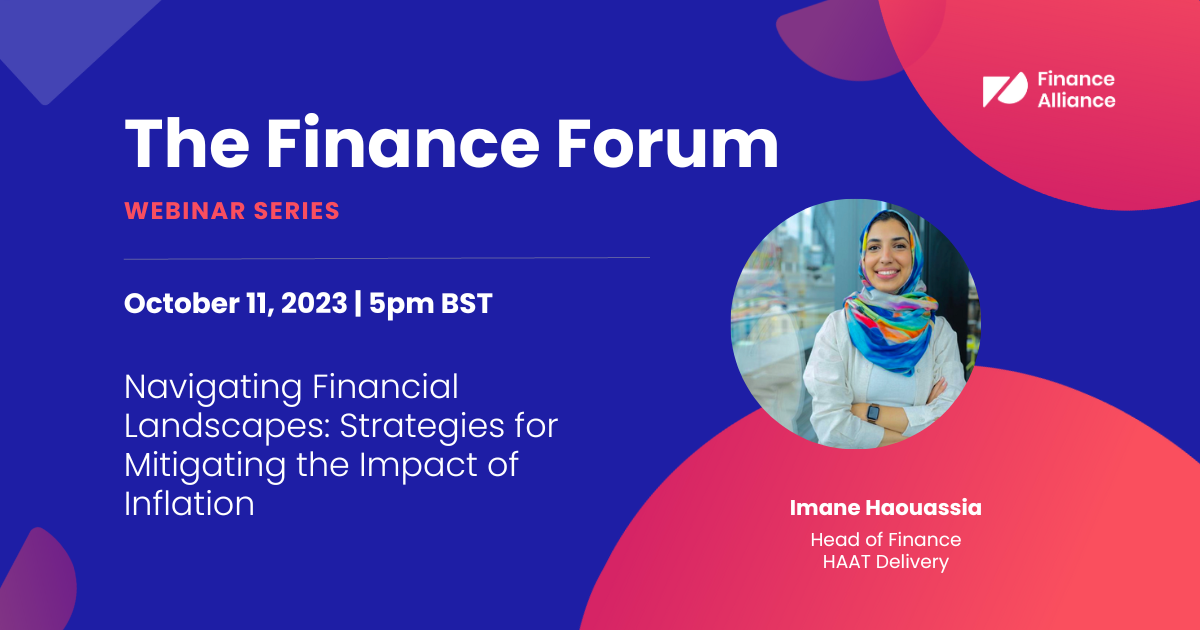 ---
💬 Talking Points

@Emma Buitendag is asking have you found ways to quantify the financial impact of ESG initiatives?
@Millie McCaughrean wants to know What tool do you recommend for FP&A as an Excel alternative?

@Tytti Hyysalo is asking How closely do you work with your FP&A team?

@Demilade is looking for a chat with a CFO or  Finance leader who has experience setting up the finance function in a Venture Capital firm. Alternatively, I would appreciate a pointer to an excellent resource that can help with best practices.

Keep up with all the latest hot topics on the #finance-questions channel.
---
👋 Content Opportunities

Want to take part in our Two Cents Podcast or our upcoming Women in Finance podcast? Contact Sabrinthia Donnelly to find out about upcoming opportunities.
---
🗓 Coming up

Finance pros of Boston: You're invited to join true visionaries, industry leaders, and innovators who've mastered the art of FP&A strategies this October 19 & 20.
On the lineup: Adobe, L'Oréal, Verizon, Warner Bros. Discovery and Everbridge.
📧 Fill in your details here for a handy brochure
---
🇬🇧 FP&A Summit London 🇬🇧
If London is more local, unlock the secrets of FP&A function on November 22 & 23.
On the lineup: Synamedia, VICE media, London Stock Exchange Group Plc and Insulet Corporation.
📧 Fill in your details here for more info straight to your inbox.
---
⭐️ Your feedback fuels us ⭐️

"There is an attention to detail as a member, this makes you feel part of a family. Finance Alliance, managed by people with a great sense of purpose, allows you to trust and collaborate fairly."
- Julio Garcia, Finance Alliance Slack member

We thrive on your feedback, so don't hesitate to let us know how we're doing!

Leave your feedback and suggestions on Trustpilot.